Mission and Vision
Values
Team building
Implementation
Social Responsibility

A team without a clear goal cannot be called a team, like a heap of loose sand.Set a goal for every member, get their identification, regularly notice the goal in the further work for them, encourage them by the goal.
Communication, a vital method in the teamwork, will be at the all processes achieving the goal, for the determining of the goal, working standard, working fruits, and different opinions upon management. Effective communication will unite the thought of the crew to realize the goal.
Excellent team is often a study-oriented organization, with good studious phenomenon.The team member will learn from several ways, and they will remind and encourage each other in the learning process. Only a studious team will undertake tasks of more importances, and brighter future will wait ahead of them. The team leader should be the most studious one in the team, and if he cannot be a sample with less effort, the rest will be studying in vain.
Man is some kind of higher animal who needs motivation, and a motivate
d staff is welcome for any company. Excellent team will have their staff encouraging each other by many ways, like target incentive and praising. And a flexible application combining with carrot-and-stick mechanism will ensure the success of the whole team, in which necessory punishment and criticise are also another kind of encouragement.
There is no team is borned an excellent team. They grow up under the leader's management and training. An excellent lead should be good at communication and guidance, integrate both staff career plan and team development goal, reminding the staff now and then, doing a good motivation job, overcome all the difficulties, and then an ideal team is built.

Triumpher's requirements towards the implementation

1、Clear mind, proper understanding the key problem, conforming to the supervisor's intention and requirements;
2、Set a challenging goal for oneself, for excellent performance;
3、After orders, immediate actions with no condition;
4、Timely hand in the given assignements to the supervisor with quality and quantity, completing all kinds of tasks of one's own post;
5、Be strongly aware of the milestone, carry ourt every task strictly upon the timetable especially the milestones.
6、Stick to the goal, until achieved;

7、Clearly understand the key work and control points, by prior monitoring during stage tracking. Ensure the process proceeding on the right way with quality and punctuality;
8、Strong prospectiveness, enable to foresee the potential problem and take precaution measures;
9、Calmly,properly and fast deal with emergencies and accidents;
10、Tough-minded and indomitable with no quitting, when facing problems;
11、One with vigorous stimina and stable emotion can undertake huge working strength and pressure.
Here are the 48 charactors of China's popular executtion norms recommended by many entrepreneurs and management scholars as follows:
Be serious first, then be smart;
Make decision first, then face the result;
Be speedy first, then be perfect;
Be fruitfull, then come excueses;
Put results first place, then be a hero;
Lock the goal first,achieve by focusing and repeating.

What is implementation
Implementation is: on the result, bad score is better than no score.
Implementation is: causual relationship, only good results paid is a good man.
Implementation is: only actions and results can speak.
Implementation is: on promise and oriented by the results, never give up.
Implementation is: selected.
Triumpher strives to develop and create any possible ways that not only improve the Triumpher manufacturer's operations and bottom line, but improve our environmental footprint and offer our clients and customers the best benefits as well.
The "lingang" initiative includes the following six categories: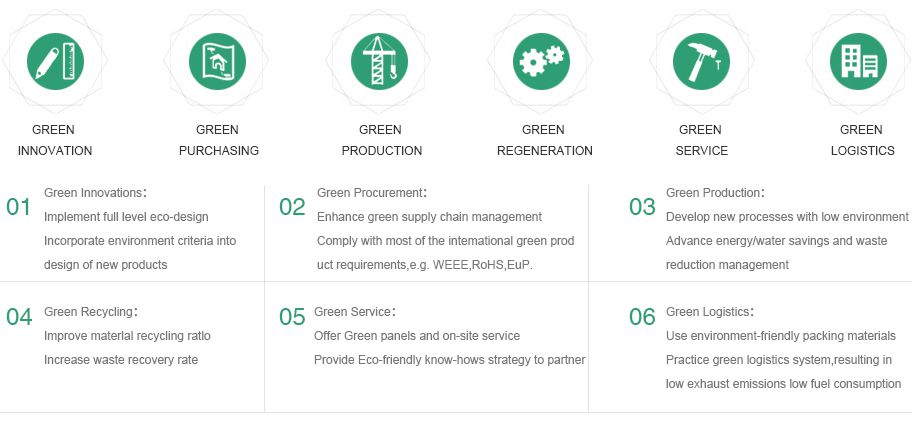 In 2008, global CO2 emissions per capita hit a record high of 1.3 tonnes. In the same year, total CO2 emissions were up 41% from year 1990. As a member of the global village, what can we do to help save the environment?

Dedicated to Green Solutions for an all-new low-carbon lifestyle and the building of an environmentally friendly low-carbon society, Triumpher Corp. made a declaration of carbon footprint reduction this year, aiming at a 30% decrease in its carbon footprint level in 2009 by 2012. What are carbon footprints?
Carbon footprints, in the form of carbon dioxide, are generated when individuals, households or companies are involved in daily activities and manufacturing of products. Accordingly, a product's carbon footprint refers to the total amount of carbon dioxide emission during its life cycle, including the stages of raw material, product manufacturing (or service provision), distribution, consumer use, and disposal & recycling. With the help of the carbon footprint indicator, consumers will have an even better knowledge of the possible environmental impact of the electronic products they use.